A two-week summer program
for young women who are currently enrolled
in 7th or 8th grade in central Ohio.
---
Summer Program Status Update (10/09/23):
The Digital Animation: A Technology Mentoring Program for Young Women will accept applications for the summer of 2024.
Please check back in January 2024 for Summer 2024 applications. 
---
APPLYING
Students apply through a process that requires an application form, an essay, a creative project, guardian signatures, and a teacher recommendation form. Application can be made through an online form or by downloading the application .pdf form, completing it and returning it to ACCAD. Applications are posted in January of each year for the following summer's program. Notification of acceptance normally happens by mid-March.
Digital Animation: A Technology Mentoring Program for Young Women requires team-based work of all participants, so applicants should be enthusiastic about collaborative creative work.
Parents or guardians of accepted participants must be able to provide or arrange for transportation to and from the OSU campus, for the start and end of each daily session, Monday – Friday, for two weeks.
Students must be currently enrolled in either 7th or 8th grade at the time of application.
PROGRAM DESCRIPTION
Established by Professor Maria Palazzi in 2001, Digital Animation: A Technology Mentoring Program for Young Women is offered by the Advanced Computing Center for the Arts and Design (ACCAD), the arts-based research center in The Ohio State University College of Arts and Sciences and one of the premiere animation education centers in the world.
This summer experience empowers participants to be the hands-on creators of 3D computer-animated stories and develop confidence in technical skills related to 3D animation, within a supportive and enriching community of artists and designers. Each year the program selects participants based on their applications to work in small collaborative teams, directed by women mentors in a dynamic and focused experience using the latest computer animation technologies. OSU student mentors, in conjunction with OSU faculty, lead the participants through a shared discovery of the world of graphics and animation integrating storytelling strategies, problem-solving skills, collaborative learning and presentation. Participants explore the same high-end software used in movies like Horton Hears a Who!, Kung Fu Panda, and Wall•E!
An average day might look like this:
Time                              Activity
9:00am – Noon            Computer Animation Workshop
Noon – 1:30pm             Lunch (provided) and Discussion
1:30pm – 3:30pm         Team-based Story Development and Storyboarding
4:00pm                          End of day
A ceremony is held on the last day to celebrate the students' accomplishments and to display the collaborative team projects to students' families, guests and the community.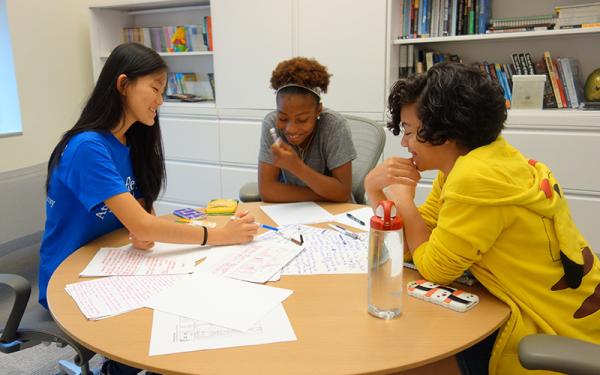 PAST PROGRAMS
Collaborative work completed by students from each of the previous years the program was held.