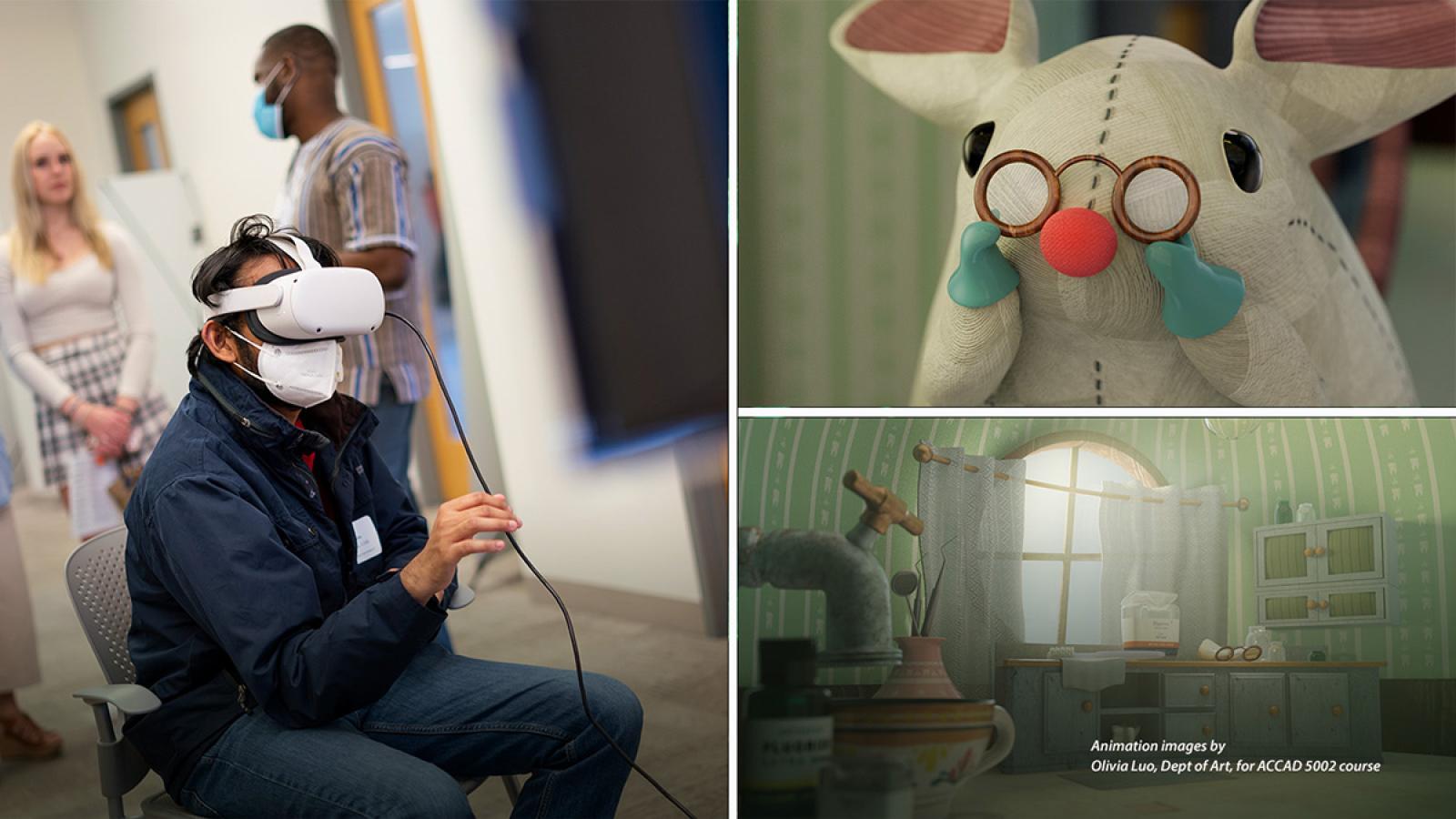 Body
ACCAD Open House - Join Us!
Friday, April 7, 2023
3:00 to 6:00 PM
ACCAD is inviting the local community to tour one of the first computer graphics Centers in the world. Guests are encouraged to explore the Center at their own pace, observe, ask questions and physically interact with demos.  This event is free and open to all.  Light refreshments will be served.
2023 ACCAD demos will include:
Block-chain empowered video installation
Quantitative Evaluation of virtual reality experiences
Motion Capture based research and applications
Collaborative artist in residence projects
Immersive and interactive digital landscapes surrounding human/nature divide
Undergraduate and graduate 3D animations
Mixed-reality games, interactive visualizations, and immersive rooms
An immersive musical performance exploring identity and autobiography
Virtual spaces recreated from silent films
Visitors meet a dedicated community of Graduate Students, Faculty and Staff from various core disciplines across campus. ACCAD is known for specializing in synergistic research and relationships and our highly creative community determines the evolving agenda each year.
ACCAD provides space for new knowledge generation through intense study, discussion and application. The Open House offers a unique opportunity to showcase an ever changing landscape of new projects in a lively and engaging event. 
---
Parking Information
The Ohio Union South garage (1759 North High Street) is open to campus visitors 24/7. You can use a credit card to pay when you exit. All parking garages and parking lots have designated visitor disability parking spaces.

ACCAD Location Inside Sullivant Hall
Enter Sullivant Hall via the High Street entrance. Walk straight through the open rotunda to an elevator or take left side set of stairs. Once on the 3rd floor, turn right. ACCAD's main entrance is Rm 331.