Image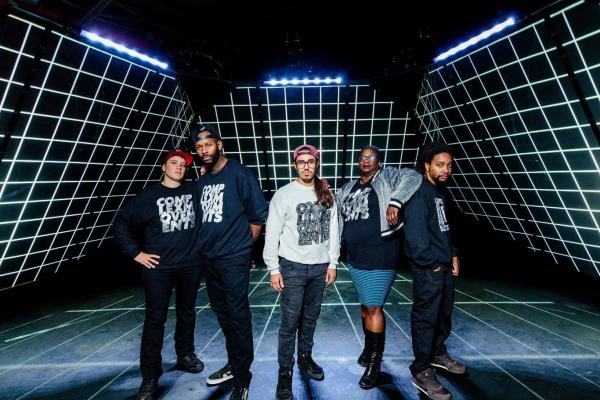 November 1, 2019
3:00PM - 5:00PM
Location
Barnett Theatre 3rd Floor (Sullivant Hall)
Date Range
Add to Calendar
2019-11-01 15:00:00
2019-11-01 17:00:00
Complex Movements - Public Dialogue
Livable Futures is hosting a Public Dialogue with Detroit-based art and media collective Complex Movements as part of their weeklong Creative Residency. October 27-November 3, 2019. Join us for a Public Dialogue with the artists November 1st. Free and open to the public. Food and refreshments provided. Please RSVP on the Livable Futures Event Page. ABOUT Complex Movements:Complex Movements is a Detroit-based artist collective supporting the transformation of communities by exploring the connections of complex science and social justice movements through multimedia interactive performance work. Their creative projects are inspired by the writings, philosophy and experience of Detroit-based activist Grace Lee Boggs (1915-2015), as well as grassroots networks in Detroit. The collective engages communities to expand their strategies for organizing around local and trans-local social justice issues. Complex Movements has presented work at the Detroit Science Center, the Network of Ensemble Theater's Microfest, Cranbrook Art Museum, Freedom Dreams/Freedom Now conference (Chicago), Allied Media Conference, SiTE:LAB, Charles H. Wright Museum for African American History, Under The Radar (NYC), One Mic Hip Hop Culture Worldwide Festival (DC), Facing Race conference, On The Boards (Seattle), and at Dallas' Fair Park in conjunction with Ignite/Arts Dallas. For more information, visit complexmovements.com
Barnett Theatre 3rd Floor (Sullivant Hall)
OSU ASC Drupal 8
ascwebservices@osu.edu
America/New_York
public
Date Range
Add to Calendar
2019-11-01 15:00:00
2019-11-01 17:00:00
Complex Movements - Public Dialogue
Livable Futures is hosting a Public Dialogue with Detroit-based art and media collective Complex Movements as part of their weeklong Creative Residency. October 27-November 3, 2019. Join us for a Public Dialogue with the artists November 1st. Free and open to the public. Food and refreshments provided. Please RSVP on the Livable Futures Event Page. ABOUT Complex Movements: Complex Movements is a Detroit-based artist collective supporting the transformation of communities by exploring the connections of complex science and social justice movements through multimedia interactive performance work. Their creative projects are inspired by the writings, philosophy and experience of Detroit-based activist Grace Lee Boggs (1915-2015), as well as grassroots networks in Detroit. The collective engages communities to expand their strategies for organizing around local and trans-local social justice issues. Complex Movements has presented work at the Detroit Science Center, the Network of Ensemble Theater's Microfest, Cranbrook Art Museum, Freedom Dreams/Freedom Now conference (Chicago), Allied Media Conference, SiTE:LAB, Charles H. Wright Museum for African American History, Under The Radar (NYC), One Mic Hip Hop Culture Worldwide Festival (DC), Facing Race conference, On The Boards (Seattle), and at Dallas' Fair Park in conjunction with Ignite/Arts Dallas. For more information, visit complexmovements.com
Barnett Theatre 3rd Floor (Sullivant Hall)
Advanced Computing Center for the Arts and Design
accad-info@osu.edu
America/New_York
public
Description
Livable Futures is hosting a Public Dialogue with Detroit-based art and media collective Complex Movements as part of their weeklong Creative Residency. October 27-November 3, 2019.
Join us for a Public Dialogue with the artists November 1st.
Free and open to the public.
Food and refreshments provided.
Please RSVP on the Livable Futures Event Page.
ABOUT Complex Movements:
Complex Movements is a Detroit-based artist collective supporting the transformation of communities by exploring the connections of complex science and social justice movements through multimedia interactive performance work. Their creative projects are inspired by the writings, philosophy and experience of Detroit-based activist Grace Lee Boggs (1915-2015), as well as grassroots networks in Detroit. The collective engages communities to expand their strategies for organizing around local and trans-local social justice issues.
Complex Movements has presented work at the Detroit Science Center, the Network of Ensemble Theater's Microfest, Cranbrook Art Museum, Freedom Dreams/Freedom Now conference (Chicago), Allied Media Conference, SiTE:LAB, Charles H. Wright Museum for African American History, Under The Radar (NYC), One Mic Hip Hop Culture Worldwide Festival (DC), Facing Race conference, On The Boards (Seattle), and at Dallas' Fair Park in conjunction with Ignite/Arts Dallas.
For more information, visit complexmovements.com
---