February 16, 2021
Creative Pathfinders: Advanced Computing Center for the Arts and Design (ACCAD)
Image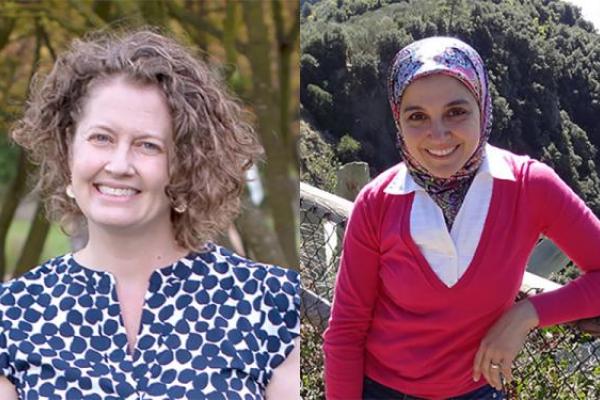 Description
On February 5 the second event in the Creative Pathfinders webinar series took place with alumna Dina Abdul Karim, PhD City and Regional Planning '12; Visual Artist; Assistant Professor of Urban and Regional Planning, California State Polytechnic University, Pomona and alumna Beth Albright, MFA Industrial Design '09; Visual Effects, Pixar. Vita Berezina-Blackburn, Animation and Motion Capture Specialist, ACCAD was the interviewer at the event.
If you were unable to join live, you can view the webinar recording below.
---
Dina Adul Karim is a Middle Eastern-born American artist. She received her training in architecture, urban design, and city planning, then attended CalArts where she completed her MFA in 2015. Her paintings investigate the notion of home in relation to the layered contexts that both separate and connect the East and the West. She combines patterns of arabesque motifs with aerial views of built structures to express the spiritual and everyday realities of these places, and how they interact with (or infuse) each other to present not only an individual experience but also a social and cultural one. 
Dina is an Assistant Professor of Urban and Regional Planning at the California State Polytechnic University, Pomona. Her teaching and research explore the perceptive and evaluative attributes of public places, and the creative interpretations of their meanings. Dina is interested in the ways the social and psychological dimensions of places impact people's sense of belonging and wellbeing. In line with her focus on equity, diversity and participatory social change, Dina collaborates through her Urban Design Studios with community organizations on projects that aim to use art and creative placemaking as a tool for building livable and vibrant communities.
---
Beth Albright has been working in animation since "Space Jam" in 1996. She joined Pixar Animation Studios as a character shading and groom artist in 2009, working on films including "Toy Story 3", "Brave", "Monsters University", "Finding Dory", "Coco" and "Incredibles 2". She is currently serving as character supervisor on "Luca", releasing summer 2021. Beth received a BFA in graphic design from the University of Notre Dame and an MFA in digital animation from The Ohio State University (ACCAD).
---
Vita Berezina-Blackburn works on multidisciplinary research and creative projects with integration of motion capture, virtual production, virtual reality and 3D modeling. Her research has been presented at conferences such as ACM SIGGRAPH, ACM Computer Supported Cooperative Work, International Federation of Theater Research, International Society of Biomechanics technical group on 3-D Analysis of Human Movement. Her animations have been part of performances and exhibits at Lincoln Center for the Performing Arts, MIT Museum, Wexner Center for the Arts, Yerba Buena, Red Cat, Dance Theatre Workshop as well as PBS and international festivals such as Anima Mundi and Dance on Camera. In 2005 Berezina-Blackburn received a collaborative creator New York Dance and Performance Award (BESSIE) for Landing Place, a mediated performance production by the Bebe Miller Dance Company. 
---
This event was presented by the Barnett Center for Integrated Arts and Enterprise in partnership with the Advanced Computing Center for the Arts and Design (ACCAD).
News Filters:
---