October 20, 2021
Digital Movement: Working With Motion Capture Data - Workshop Series
Image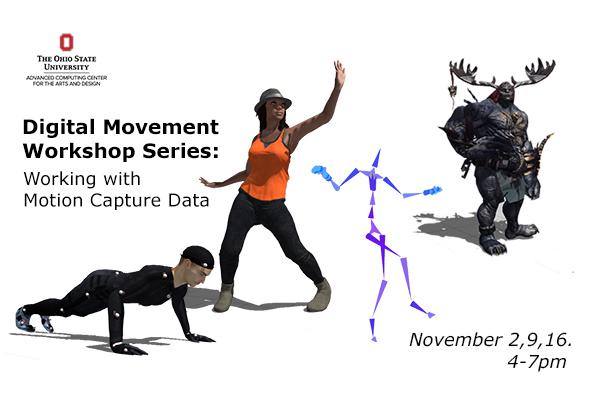 Description
On November 2nd from 4-7pm ACCAD instructor Vita Berezina-Blackburn will offer the first in a series of workshops entitled, Digital Movement: Working With Motion Capture Data. There is no cost to enroll. See RSVP information below.

Background
As more motion capture technologies become accessible and free motion capture data is available online, researchers and creative practitioners can integrate moving virtual avatars into their work.

Join these workshops! Learn the basics of editing motion capture data to choreograph full body movement, create looping motion clips and customize movement sequences for characters and avatars in interactive applications, VR, games, and animated films. Those who have completed all three workshop sessions will have an opportunity to schedule a capture session in the ACCAD Motion Lab. Open to ALL disciplinary backgrounds! No experience is required for the first workshop session. The subsequent sessions will build upon the first.

The workshop series consists of three 3-hr long sessions facilitated with an in person and remote attendance option (via zoom). In person access will be available at ACCAD, Sullivant Hall. Access details will be provided upon registration. Workshop recordings and supplemental materials will be provided after each session.

Requirements: access to Autodesk Motionbuilder and (optionally) Unity.
Questions: contact the instructor at berezina-blackburn.1@osu.edu.
---
Workshops:

Session 1 - Introduction to Mocap Technologies, Software and Basic Motion Retargeting. 11/02;  4-7pm
RSVP for first session.  There will be 10 seats available. If seats are filled, a waitlist will be kept. Follow up emails will be sent regarding workshop details and waitlist status.

Session 2 - Editing Captured Motion. 11/9;  4-7pm
Session 3 - Working with Motion Sequences, 11/16;  4-7pm
 
News Filters:
---