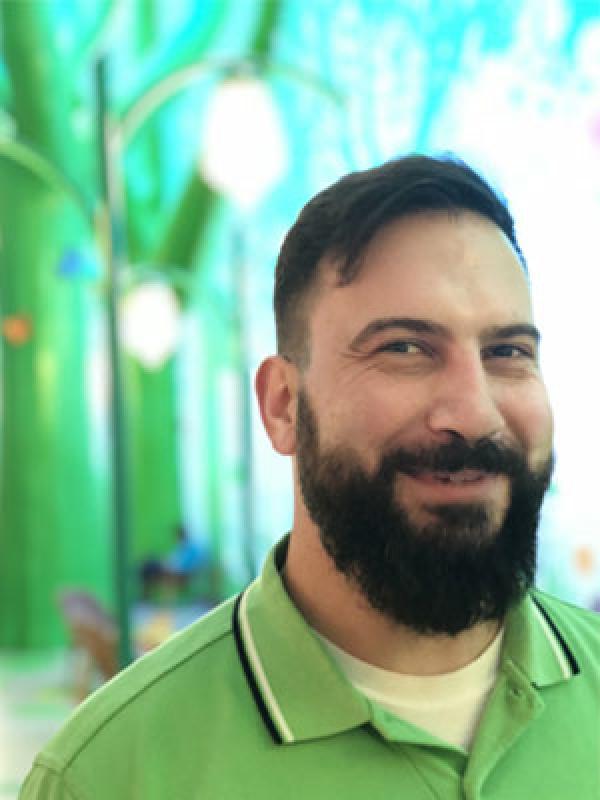 Jeremy Patterson
Sr. Graphics Researcher
331E Sullivant Hall
1813 North High Street
Columbus OH 43210
Office Hours
posted hours
Areas of Expertise
virtual reality
augmented reality
computer vision
user experience design and research
3D graphics
game creation
prototyping
Jeremy Patterson is a Graphics Researcher and Instructor at ACCAD, specializing in virtual and augmented reality, computer vision, user experience design and research, and game creation. Jeremy has recognized expertise as a skilled multi-disciplinary expert who crafts integrated, interactive experiences for humans of all ages. His current research projects at ACCAD include a first responder triage VR (MCIVR) training simulation in collaboration with the Wexner Medical Center, a suite of virtual field labs in conjunction with the College of Social Work, and a mixed reality training application for cardiac procedures in collaboration with the Wexner Medical Center.
His previous work through McGraw-Hill, Genentech, and Cartoon Network has been experienced and enjoyed by people in classrooms, living rooms, and doctor's offices across the country. Additionally, Jeremy is a published author and speaker on extended reality and its design and application in pediatrics. Before his work at OSU, Jeremy was the Lead of User Experience Technology Research and Development at the Research Institute at Nationwide Children's Hospital. In this position, Jeremy was instrumental in spearheading advanced technology projects at the organization, culminating in notable virtual and mixed reality endeavors, digital and hardware cross-over projects, and 4 US patents. Voxel Bay is the most significant of these endeavors, having been the subject of a presentation and publication at ACM SIGGRAPH 2016, a finalist selectee at South by Southwest Interactive 2017, and the Miracle Maker of the Year recipient from the Children's Miracle Network.
Jeremy is also co-founder of LittleSeed, Inc, a Columbus, Ohio-based venture that specializes in extended-reality products for pediatric healthcare, with Voxel Bay as one entry in the company's growing product portfolio. Previous to his work at Nationwide Children's Hospital, Jeremy led the research, design, and development efforts on new initiatives at Netscape and America Online.
Additionally, Jeremy is a pacer. If you see him walking around in circles, do not be alarmed: it's normal, and no need for panic. He is just thinking. He is convinced this trait is genetic, as both of his kids exhibit the same behavior. Additionally, Jeremy watches cartoons obsessively, as all mature adults should. He is also a well of useless knowledge. On the side, he designs and fabricates plastic toys and figurines.