March 3, 2022
Alumnus: Keith Ruston
Image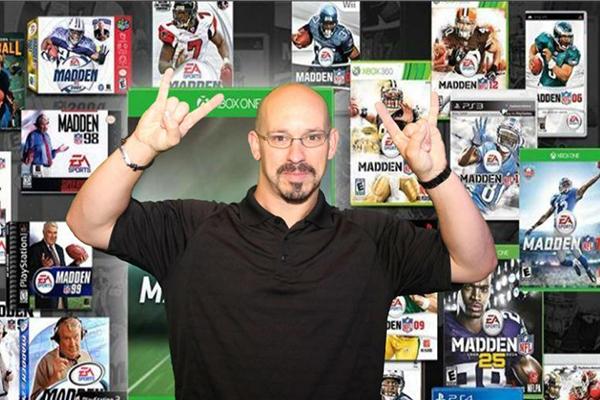 Description
Current Position / Employer: Software Engineer, Electronic Arts
Department Affiliation:  Computer Science, 1999-2005
Thesis Topic: Interactive Evolutionary Design
---
Tell us what you are doing professionally at the current time.
As a software engineer on Madden NFL 23, I'm currently working on improving the infrastructure, workflow, and pipelines for the game's core league and roster data. During my 15 years in EA Sports, I've worked on a variety of games and projects, such as the graphics/art pipeline for both Madden NFL Football and NBA Live, the crowd placement algorithm for Tiger Woods PGA Golf, the workflow and authoring tools for Madden's franchise mode feature, and more. 
What inspires your creativity today?
The amazing talent of my colleagues amazes me every day. Whether it is other fellow engineers coming up with brilliant ways to solve technical challenges or my artistic colleagues creating some truly amazing visuals, I'm grateful and blessed to be working alongside such amazing people every day.
Tell us one "Aha" moment from your experience of studying, researching or working at ACCAD.
While pursuing my undergraduate degree in Computer Science and Engineering, I had already decided that the specific field I wanted to focus on within the computer science industry was graphics. I enrolled in a class, Procedural Animation, which paired computer science students with art and design students for a semester long project of creating an animated short that featured procedural animation. That was the first opportunity that I had to work with students from other disciplines on a team project. As the team got to know each other and really discover what each was capable of, the artists were amazed at what the programmers could do, and the programmers were equally amazed at what the artists could do. That was my "a-ha" moment when I put it together that this was closer to the "real world" than any other class I had taken and that this type of collaboration is how really great films and games are created. I knew then that I needed to and wanted to have more opportunities to collaborate with artists and I took as many classes at ACCAD as I could!
What advice would you give to current students taking classes at ACCAD?
Seek out and take advantage of opportunities to collaborate with students in other disciplines to create something beyond what you could achieve on your own. The experience will give you a taste of what real life projects are like. And the talents and abilities that the students from other disciplines offer will bring you a whole new level of excitement for creating something amazing!
What most helps you to balance life and career expectations? How do you relax or de-stress?
I have two boys, ages 9 and 11, and they are both into youth sports. They play baseball in the spring, soccer in the fall, and basketball in the winter. And I'm either head coach or an assistant on each of their teams in each sport! So I'm busy all-year round. It is exhausting at times, but it is so much fun and I cherish the time together and know that these are times they'll remember forever. 
Tell us a fun thing (or something) most people don't know about you?
I have a vision disability called Stargardts Disease, which is a juvenile form of macular degeneration. It has reduced my visual acuity to almost legally blind. But I've found that working on a computer is a great career for someone with this sort of visual impairment because accessibility features help tremendously. I use a large monitor attached to a monitor arm so that I can adjust and pull the screen up close. Being able to change color schemes to be lighter fonts on top of darker background helps a lot. I also utilize the built in screen magnifier very extensively. All of these accommodations make it pretty easy for me to be productive, despite my visual impairment.
What would an alternate career choice be for you if you decided to do something other than art and design or animation?
I always thought it would be fun and rewarding to be a teacher. Teaching high school math would've been my second career choice. Who knows, maybe if I decide to retire early from the industry I'll get into teaching math or computer science at a high school or even at the college level!
---
We at ACCAD enjoy introducing you to our illustrious alumni. ACCAD alumni work all around the world doing amazing creative, scientific and inspiring work. You can see our full Alumni list here.  
News Filters:
---