March 12, 2019
The Hiatus System Project
Image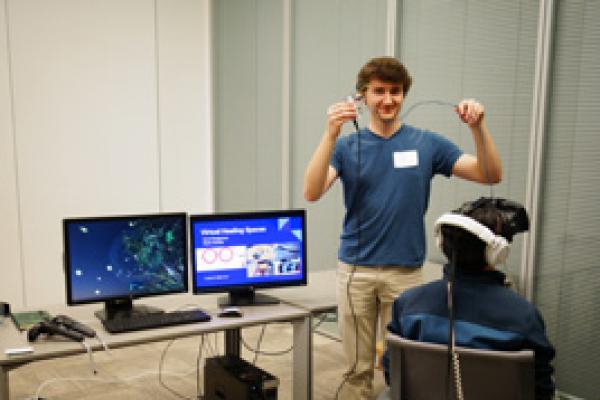 Description
MFA Design candidate Kevin Bruggeman (pictured below) and B.S. Computer Science & Engineering candidate, Skylar Wurster (pictured left) have been working together on a virtual reality meditation sytem to help reduce anxiety. Design faculty advisor Prof. Susan Melsop has provided insightful guidance for the project. Kevin intentionally chose Ohio State's Design MFA program to develop his ideas and to work and study at ACCAD. He realized that Interdisciplinary collaboration would be key to making this project happen. Kevin stated, "That was one of the best parts about being here was constantly being introduced to people with different expertise."
Bruggeman and Wurster will soon unveil the software's alpha phase, which will be available for testing. Bruggeman is working with Ruchika Prakash, associate director of the Center for Cognitive and Behavioral Brain Imaging, and Marcie Bockbrader, assistant professor in the Wexner Medical Center Department of Physical Medicine and Rehabilitation, to start a pilot study using patients with chronic brain injuries at the Wexner.
Bruggeman plans to continue developing The Hiatus System after he graduates this spring, and he hopes it can one day be used in a clinical setting to help patients who are enduring various illnesses and treatments. "People that are going through these very stressful treatments or conditions — anxiety, depression, cancer, PTSD — I want this to be a way for them to relax," he said.  A more complete article about Kevin and Skylar's work is in the Arts & Sciences College News site.
Kevin and Skylar will be demonstrating the Haitus System at the ACCAD Open House, Friday, April 5th from 3:00-6:00pm.
News Filters:
---