October 16, 2020
Making Lemonade Webinar: The Woods
Image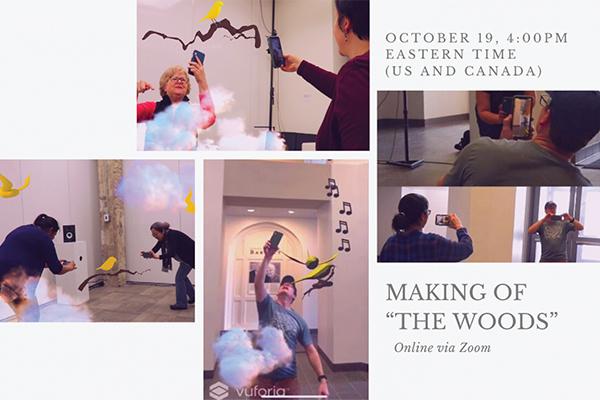 Description
Join Professors Kyoung Lee Swearingen and Scott Swearingen along with other panelists for the Making of 'The Woods' webinar on Monday, October 19th from 4-5pm via Zoom.
---
Register in advance for this webinar:
https://osu.zoom.us/webinar/register/WN_FFgXOvTGSuCG-gzHi1BuXw
After registering, you will receive a confirmation email containing information about joining the webinar.
---
'The Woods' is a multiplayer cooperative game that employs Augmented Reality (AR) and 4-channel audio spatialization panning to produce a shared experience that is both digital and physical. It is designed from the ground up to promote social interaction and collaboration. As players choreograph their movement in real-world space, they find themselves interacting with birds, clouds and other objects in virtual space. Together, players experience an immersive sonic narrative of rumbling storm clouds and despondent voices that culminate in stories of reconciliation. 'The Woods' provides positive social impact by illuminating our connections and inspiring us to respond to one another through collaboration and the pursuit of shared goals.
The narrative of 'The Woods' speaks to the perils of social isolation while promoting connections between people and actively engaging them in play. As a cooperative game, players collaborate towards a shared goal: collecting fragments of messages left by a lonely grandmother, displaced siblings, and divorced parents. To do this, players  provide birds in flight a perch to land on and offer them respite during stormy weather. Upon landing, the birds deliver these fragments. After collecting enough birds and avoiding storm clouds, the voicemail will play in its entirety, revealing a moment of reconciliation.
---
Host
Kyoung Lee Swearingen
Assistant Professor, Department of Design, The Ohio State University
Kyoung Lee Swearingen is an Assistant Professor in the Department of Design and a former Lighting Technical Director at Pixar Animation Studios. Her filmography includes Ratatouille, Wall-E, and Toy Story 3 which have claimed numerous awards from the Academy Awards, Visual Effects Society, The American Film Institute, as well as many others. Her current research focuses on creating games and animation for social good through human-centered technology. Her award-winning projects have been shown (inter)nationally at ACM SIGGRAPH, IEEE-GEM, GDC, Montreal Independent Game Festival, and Bucheon International Animation Festival.
Scott Swearingen
Assistant Professor, Department of Design, The Ohio State University
Scott Swearingen is an Assistant Professor in the Department of Design at The Ohio State University. With a research focus in collaborative game design, his work cultivates the human experience of connectivity across a variety of physical and social boundaries. While at Ohio State, he has exhibited multiple award-winning games at various (inter)national conferences including SIGGRAPH, SIGGRAPH-ASIA, IEEE-GEM, IFIP-ICEC, and HASTAC. Prior to joining Ohio State, Scott worked as a game designer on a variety of award-winning games and franchises including Medal of Honor, The Simpsons, and The Sims.
Panelists
Dr. Marc Ainger
Associate Professor, School of Music, The Ohio State University
Marc Ainger is a composer and sound designer. He has worked extensively in the area of computer and electronic music, using computers alone and in combination with traditional instruments, as well as in combination with other media such as film, dance, gaming, and theater. Significant commissions and performances include the New York Philharmonic Biennial, the Aspen Music Festival, the American Film Institute, the Klang Arts Festival, Gageego New Music Ensemble, Guangdong Modern Dance, the Royal Danish Ballet, the New Circus, Streb, and Late Night with David Letterman. Awards include the Boulez Composition Fellowship, the Irino International Chamber Music Competition, Musica Nova, Meet the Composer, the Esperia Foundation, and the Ohio Arts Council. As a sound designer, Ainger has worked with such institutions as the Los Angeles Philharmonic, Tempo Reale, IRCAM, the Olympic Arts Festival, and Pacific Coast Soundworks.
Dr. Federico Cámara Halac
Postdoctoral scholar, School of Music, The Ohio State University
Federico Cámara Halac's music and research focuses on live multimedia performance, instrumental and computer music, and immersive music for massively multichannel systems. Combining machine listening with computer vision techniques, he designs and theorizes audio and image database systems that explore the relationships between sound, image, space, and performance, while contributing to open source software programming. Cámara Halac is a Post-Doctoral Researcher in Immersive Audio in the School of Music as part of the Global Arts and Humanities Discovery Theme initiative at Ohio State University. Since his work involves exploring sound in media, working at the Advanced Computing Center for the Arts and Design allows him the best opportunities to interface with the College of the Arts and Sciences. He has a PhD in Music Composition and Theory from New York University (2019) where he studied with Jaime Oliver and Elizabeth Hoffman, and he studied Music Composition at the National University of Córdoba with José Halac. His work is available at https://fdch.github.io.
Sruthi Ammanagari
Graduate Research Assistant, College of Engineering, The Ohio State University

Sruthi Ammanagari is pursuing her Master's degree from the Department of Computer Science and Engineering at The Ohio State University (OSU). Prior to joining OSU, Sruthi worked as a Senior software engineer at JPMorgan & Chase for 7 years, developing production grade code in Java ecosystem including Core Java and Web Technologies. Her responsibilities include requirement analysis, code development, and automation. She worked as a Data Engineer Intern at Amazon where she built and automated deployment pipelines using Python and performed Data Ingestion and Transformation using Apache Spark. Her areas of interest include Product Development, Artificial Intelligence and Machine Learning.
Leigh Loomis
Graduate Research Assistant (ACCAD), MFA candidate, Department of Design, The Ohio State University.
Matt Hall
Undergraduate Research Assistant, College of Engineering, The Ohio State University
Matt Hall is a second-year undergraduate student at The Ohio State University studying Computer Science with a specialization in Computer Graphics and Game Design. He is interested in the intersection of the visual arts and technology and works to create interactive experiences and compelling visuals. He is an avid photographer.
Rosalie Yu
Creative Technologist, Brown Institute for Media Innovation, Columbia Graduate School of Journalism
Rosalie Yu is a Creative Technologist at the Brown Institute for Media Innovation, at the Columbia Graduate School of Journalism. She was also a former Tech Resident at Pioneer Works and a Research Fellow at NYU Tisch's Interactive Telecommunications Program, ITP. Rosalie draws connections between traditional photography, current archiving techniques (3D scanning), and other immersive media. Her work has been exhibited at the Queens Museum and Sotheby's, and featured in the Creators Project (Vice) and Wired Magazine (Italy).
Skylar Wurster
Graduate Research Assistant, College of Engineering, The Ohio State University
Skylar Wurster is a 2nd year PhD student in the Department of Computer Science at The Ohio State University. His research focus is in scientific data visualization and machine learning, but he maintains interest in computer graphics and video games. He has presented several works covering 3D volume compression and reconstruction, ensemble data in the scientific domain, and virtual reality with biofeedback for stress reduction at VIS and SIGGRAPH
News Filters:
---