May 14, 2021
MFA Design Graduate Maya Jenkins Wins First Place in the Hayes Graduate Research Forum
Image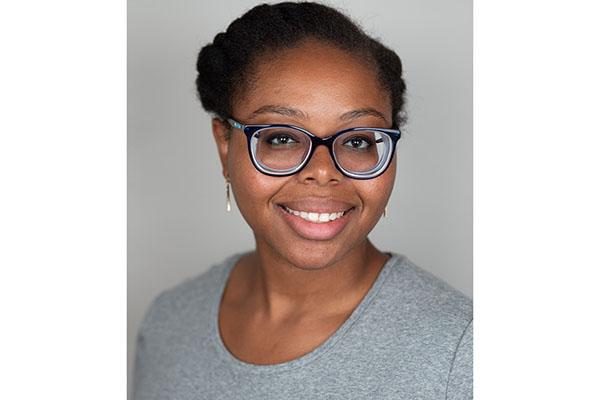 Description
We are so pleased to announce that Maya Jenkins graduated this spring 2021 with her MFA in Design with an emphasis in Digital Animation and Interactive Media. Maya also worked throughout her MFA as a Graduate Research Associate at ACCAD. In addition to these admirable achievements, this spring 2021 Maya also won First Place in the Hayes Graduate Research Forum. ACCAD offers a hearty congratulations to Maya and best wishes as she continues her professional journey. We asked Maya a few questions about her research and experience at Ohio State.
What was your research / thesis focus?
My thesis work focuses on using a service design framework to create more successful help-seeking journeys for student mental health challenges. I mostly pursued this topic due to my own history with mental illness and experience with campus resources. A lot of events occurred as I was entering the graduate program, such as the tragedies and the formation of the Ohio State Suicide and Mental Health Task Force. There were a lot of responses from the university and I grew curious about the student perspective. I asked Ohio State students about their current and varied experiences with campus mental health resources and then, through participatory research methods, collected their ideas towards an improved experience in navigating campus mental health resources and getting the help they need and deserve. The images below provide an overview of this work.
1. Overview of Maya's thesis research process.
2. Responses from individual interviews were compiled into a holistic journey map of the current student experience with accessing campus mental health resources. The main takeaway from their interactions with the current offerings shows that they enter the help-seeking process distressed and ultimately leave the process still distressed.
3. Student ideas from the making activities formed a composite journey of the realistic, but more preferred, student experience. Student acknowledged that the journey to better mental health and receiving care is not in a consistent, upward trend. But with the desired interactions and service offerings, they can maintain a manageable baseline of distress and received appropriate care.
What did it mean to win First Place in the Edward F. Hayes Research Forum?
Although public presentations scare me, it really meant a lot to be able to share my research outside of the department. Winning an award, let alone first place, was not only an acknowledgment of the significance of my thesis work, but it demonstrated this yearning that the Ohio State community has for better experiences in campus mental health. I was also able to share the insights from my research with campus mental health facilitators who were so receptive and open. Overall, I was very grateful that people found value in my work.
What are your plans from this point forward?
Post-graduation, I will start my role as a design researcher at IBM on their AI Applications team. I will also serve as a consultant at M + A Architects providing guidance in research, mental health initiatives, and AR/VR experiences. I'm really excited to offer my perspective to industries that are completely new to me and also create experiences that align closely to my research interests.
What did the ACCAD research and teaching environment add to your OSU academic experience?
Taking courses and being part of research projects at ACCAD helped diminish the intimidation I felt coming into areas of design that I had never considered, such as immersive environments. I was given the permission and space to explore and create according to my personal interests, which eventually evolved into this unexpected skillset that I enjoyed acquiring. The guidance I received from ACCAD professors and the opportunities to learn from my colleagues are absolutely invaluable and I'm so grateful for their encouragement and support.
News Filters:
---