April 19, 2019
Motion Capturing Visiting Conductor, Dr. Ching-Chun Lai
Image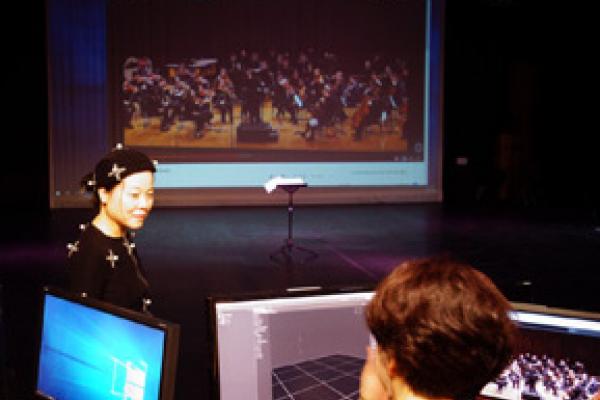 Description
Dr. Ching-Chun Lai, is a professional orchestral conductor and an associate professor at the Crane School of Music, State University of New York at Potsdam. She is a visiting professor at the OSU School of Music this academic year.  She participated in a motion capture session at ACCAD this March 2019.
Dr. Lai conducted a full performance of Edward Elgar's Enigma Variations, op. 36 while 12 Vicon cameras recorded her movements and digitally captured her conducting expertise in 3D. The orchestra pictured in front of her was a video play back of the OSU Symphony performance, recorded two days prior to the motion capture session.
The OSU Symphony orchestra performed the same piece in Weigel Hall, with Dr. Lai conducting. Design graduate student Joe Chambers recorded the Weigel Hall performance with a 360 degree stereo video camera. Joe explained: A 3D 360-degree video capture can immerse you in a time and space that few have the ability to visit.  It's exciting to have a conductor like Dr. Lai support us in capturing this unique perspective.
This is the first time ACCAD has captured the movement of a professional conductor.  ACCAD staff member, Vita Berezina-Blackburn explained, the research and collaboration potential of this rare opportunity is a chance to visualize gestural communications between the conductor and the musicians. This sheds light on the unique language crafted by a conductor to communicate the nuances of a composition and is of great value to both student conductors and music lovers.
News Filters:
---