November 14, 2018
Professor Marc Ainger at the Fourier Festival in Vienna
Image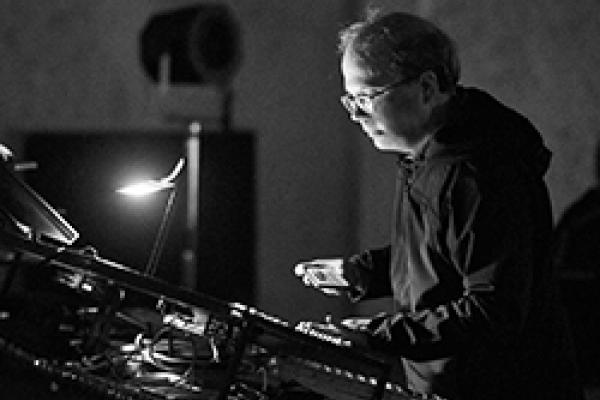 Description
Professor Marc Ainger explained, "The Fourier Festival began on October 5, 2018, in Vienna, Austria and lasted for several days. According to the festival director, Thomas Gorbach: Fourier's mathematical insights have long become music - a music of bold sound and unprecedented computer sounds. These can now be heard via the 40 loudspeakers and 40 channels of the Viennese Acousmonium. A unique sound experience, not only for lovers of music, mathematics and computers: Through the room, sounds move in circles, tracks, strains and compressions. Experience hearing beyond anything previously experienced and imaginable."
The festival featured a variety of acousmatic music from different parts of Europe, performed by the composers on Gorbach's Acousmonium. Prof. Ainger and Ann Stimson were the only guests from the United States invited this year. The photo here shows Marc referencing photos on his iPhone. During rehearsal he took a photo of the initial settings of the mixer, as well as pictures of the configuration at key points in the performance to remind him what to do. He stated, "It is my "score." The iPhone is great for things like this because sound projection uses a hybrid analog-digital controller and therefore the settings of the mixer are not stored."
"In the iPhone photo I am looking at the initial settings of the mixer before starting. Sound diffusion involves taking a stereo audio file and "diffusing" it into a three dimensional array of speakers. In this case there were 40 speakers (the number and configuration will vary from venue to venue). So there is a live performance aspect to it."
Marc added, "I am performing the way the music travels around the room. When you have pieces that add the flute (Ann) and processing of the flute to the mix, things become complicated quickly. The flute generally stays centered in the room, though, while the rest of the sound flies around it. We do some of this with the Sonic Arts Ensemble at ACCAD, so you can see how the Sonic Arts Ensemble is an evolution of this tradition."
News Filters:
---