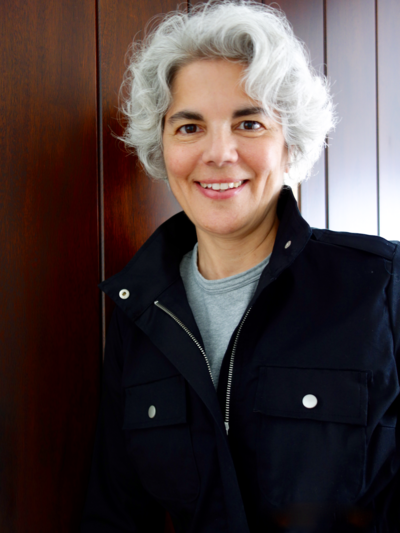 Maria Palazzi
Professor, Design
331E Sullivant Hall
1813 North High Street
Columbus OH 43210
Areas of Expertise
animation
visualization
design
Education
MA, Art Education, The Ohio State University
BSD, Design, The Ohio State University
Maria Palazzi is Professor of Design and affiliated faculty with the Advanced Computing Center for the Arts and Design (ACCAD) at The Ohio State University.
Palazzi's creative research is focused on the conveyance of ideas and information using storytelling and the medium of computer-generated graphics and animation. Within this framework her creative research lies at the intersection of animation, visual communication, information design and computing.  Her experience and expertise in design and the production of animation is closely integrated with her role as an educator within the context of design and new media. As an educator she facilitates discipline-specific application while simultaneously engaging students in multidisciplinary research, learning and practice.  
Palazzi's current creative research activities are as project PI for a collaborative conceptualization of immersive training for a semiconductor manufacturing workforce (funded by Intel Corporation) and co-PI on Virtual Field Lab a project which explores the use of experiential learning methodologies of social work-based field education through immersive experiences. Recently Palazzi served as co-PI on The Virtual Reality Performance Platform for Learning about Dementia (funded by Medicaid Equity Simulation Project, Ohio Department of Medicaid) and the project Towards a Digital Humanities Support Network (funded by Global Arts and Humanities Discovery Themes OSU). Other funded creative research projects include Motion Bank: Two Project, the IMLS funded Jane, Diary of a Dinosaur with the Burpee Museum of Natural History, Rockford, IL, and Synchronous Objects for One Flat Thing, reproduced with renown choreographer William Forsythe and Professor Norah Zuniga Shaw of the OSU Department of Dance.
Palazzi served as the Director of the Advanced Computing Center for the Arts and Design from 2001–2017 and 2021-2022. In the Department of Design she teaches in both the undergraduate and graduate programs and serves as a graduate advisor to students in the MFA program. She is currently collaboratively developing a new BSD program in Experiential Media Design which will become the fourth undergraduate program in the Department of Design. Palazzi is the project leader and founder of ACCAD's annual summer program Digital Animation: A Technology Mentoring Program for Young Women, an animation mentoring program for young women from Central Ohio.
Prior to joining Ohio State, Palazzi founded the computer animation BFA program at Ringling College of Art and Design and served as its Department Chair from 1991 - 2000. Palazzi brought animation industry experience to her teaching through her work as a senior animator and producer for Cranston/Csuri Productions, a pioneer in commercial applications of computer animation. 
Palazzi's creative work has been recognized by the CLIO Awards, Communication Arts Interactive Annual, The Communicator Awards, I.D. Annual Design Review, the American Association of Museum's Excellence in Exhibition Award and screened at ACM SIGGRAPH and international film festivals.